NEOXPacketRaven
Modular, Portable and Virtual NETWORK TAPs
Both physical and virtual Network TAPs (Test Access Ports) are used for secure and reliable access to network data. TAPs are generally used to forward network traffic to an WAF, NDR, XDR, Network Packet Broker, analysis system or security tool.
For this purpose, physical TAPs are looped into the network line to be monitored and forward all data traffic without interruption and without packet loss while maintaining data integrity.
PORTABLE
Network TAPs
Our portable Network TAPs, which can also be installed in a server rack, are available in many versions. They are available with RJ45/copper, SFP and Fiber connections, as standard and – new – as a specially hardened version for high-security and KRITIS areas. They support network speeds of up to 400 Gbps.
Learn more about our Portable TAPs
MODULAR
Network TAPs
Our modular Fiber TAPs are designed for data centers and allow you to equip up to 30 network segments with TAPs using our innovative modular 1U chassis. They are available in LC Singlemode/Multimode and MTP®/MPO Multimode and support network speeds from 100Mbps up to 400Gbps.
Learn more about our Modular TAPs
HARDENED
Network TAPs
NEOX NETWORKS offers a specially hardened version of its TAPs for high-security areas according to IEC 62443 and critical infrastructures (CRITIS).
These TAPs offer, among other things, a particularly secure and encrypted firmware. Using Secureboot, each time the TAP is started, it is checked whether the firmware to be executed has a valid signature and an authorised public key.
Learn more about our Hardened TAPs
VIRTUAL
Network TAP
With the increase in the use of virtual, cloud-based and hybrid environments in the enterprise space, the number of blind spots on the network has also increased, making much-needed, 100 per cent visibility of network traffic impossible.
Virtual TAPs (vTAPs) enable full visibility into virtual machine (VM) traffic, including traffic between VMs. This allows monitoring of security, availability and performance in native Linux systems, VM and cloud environments.
Learn more about our Virtual Network TAPs
Whitepaper
Network TAP vs SPAN/Mirror Port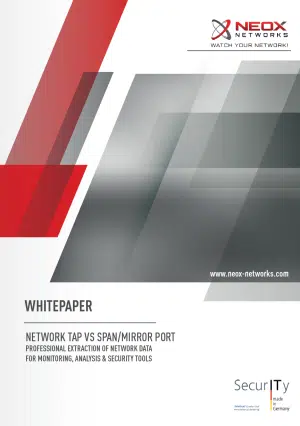 Monitoring, analysis and out-of-band security tools all have one thing in common: they need a reliable data source from which to obtain network data, and they depend on this source to function. But what is the best way to feed the network data to these tools?
Whitepaper Download